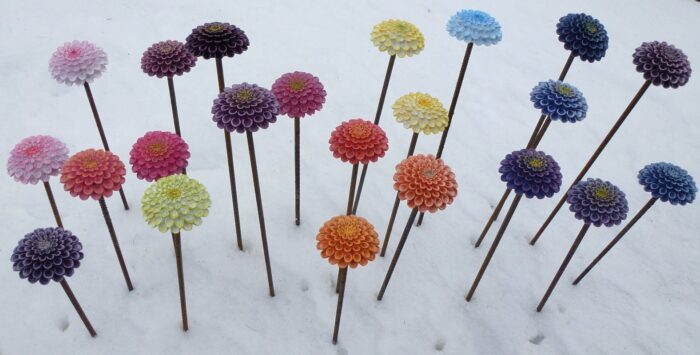 This winter I'm casting a lot of dahlia flowers to put on iron bars in the garden. I'm casting them using self-levelling compound, not concrete because concrete is too rough for this. The disadvantage of this, however, is that the flowers become more fragile and must be handled more carefully.
I'm using silicone moulds and I have bought several of these to make the process more time efficient. When I have filled and vibrated out the air bubbles, I'm putting in a oiled nylon stick in the wet compound to make the hole for the iron bar.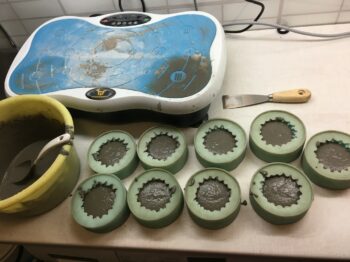 When the dahlias have hardened I remove the stick and the mould and then I grind the bottom of the flower by just rubbing it on a concrete stone. Fast and easy!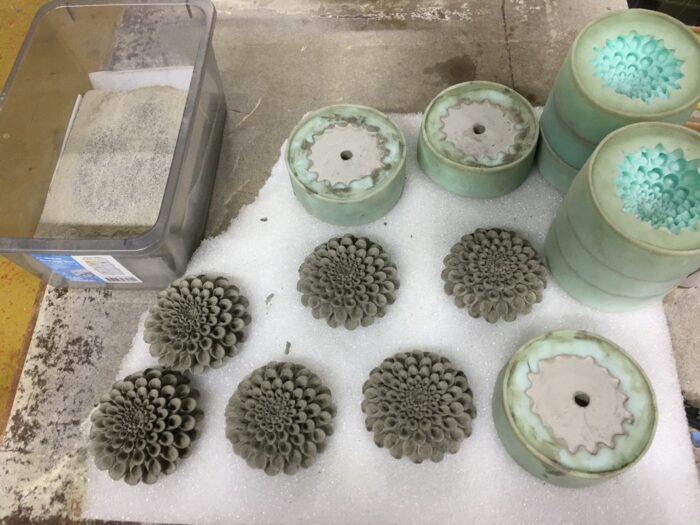 When the dahlia flowers have cured for a week or two it's time to put on the first colour coat. This has always been a tedious job doing by hand. Now I wanted to try something else. I bought an airbrush and started painting. I also made a small turntable to make it easier to paint, and I also needed a stand for the airbrush. What a upgrade, this is working great! I also made a lifting tool to lift the flower off the turntable when painted.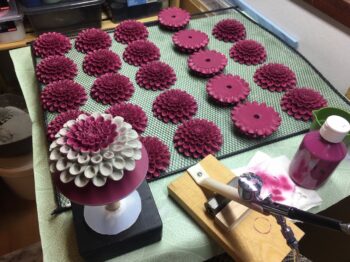 Because I'm inside when painting I really needed an exhaust for this, airbrushing spreads a lot of paint particles everywhere! I already had a suitable fan for this but needed an adjustable arm and a funnel. After some thinking I got a brilliant idea. I went up to the attic and fetched an old desk lamp we had left over. I cut off the upper part of the lamp-shade and removed the lamp and then rebuilt it to fit the exhaust hose. We made a hole in the wall and mounted the fan. Now I have an exhaust that works great and I can adjust the funnel as I want. I'm so satisfied with this invention!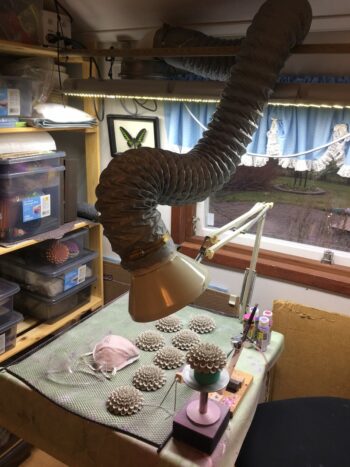 The next step is to paint metallic colours on them in several layers and shades to get them looking something like this.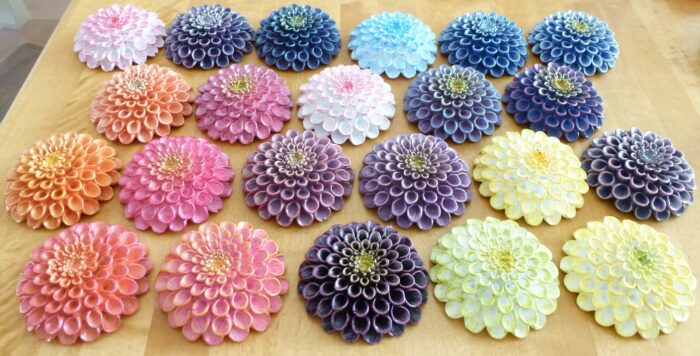 When all the paint has dried I will put on some layers of clear varnish before they are finished. This will be made outside during spring because I use a solvent-based spray varnish for this, and it stinks!
/Monica