The recent days have been quite cold here. In the morning it was -28C. We had plan to go out shopping so we had prepared the car so it had the engine heater on for more than three hours before we were to go. That was good, otherwise I don't think the car would have started. Now at least, I have all the ingredients I need to make a delicious sandwich cake (smörgåstårta) for New Year's Eve.
The sun is still absent most of the day. It only rises just above the horizon for a couple of hours before it goes down again. I very much long for the longer days to come!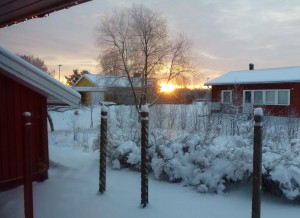 I wish you all a Happy New Year!
Monica