Cleaning the pond
At last all the snow from winter has melted. On the north side of the house there where snow just two days ago, but now it's all gone. Today was the first day I was working in the garden barefoot. Hooray! It was quite warm when the sun was shining. Now the pond is ready for summer! I took off the net I had covered it with last autumn and scooped up a lot of leaves from the water. Then I lifted up the water plants from the deepest place and put them in shallower water. It was freezing cold in the water! I put the pump in and started the filter to the small stream that is built in the flower bed above the pond. Later I will put in the fountain when the water have cleared.
Last weekend we pruned all the spirea bushes in the upper line of the flower bed. They where so broken by the snow and the mice had eaten all the bark of the rest of them. Nothing else to do but prune them. The garden looks so empty and naked now. Nothing is hiding the filter. I have to put some high flowers around it this summer, I think!
Greenhouse
This time of the year is very busy. My greenhouse is full with flowers and some tomato plants. Last time I counted the flower pots in there, there where around 1000 of them. I have to continue grow them in the greenhouse for some more weeks before I can plant them out in the garden because we still have frost at nights. The tomato plants will stay in the greenhouse all summer together with the cucumbers and the physalis.
Soon the trees will be green again. The leaves have started sprouting!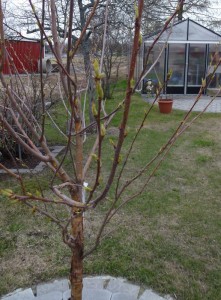 Later this week I will upload some new lattice files! 🙂
Monica