This time of year we have daylight around the clock. Sunset and sunrise are within the same hour so it's only getting slightly less bright at night.
I love this time of year, it's so uplifting after the dark winter. You can be outside working in the garden as long as you want (except for the mosquitoes that are terrible in the evenings and make you want to go inside).
I was up in the attic last night at half past twelve, it was half way between sunset and sunrise, and I took this picture. The sun will rise a little to the right of the picture.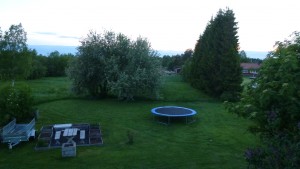 Monica