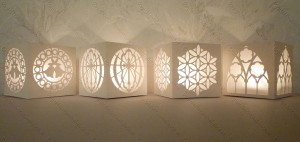 Here are some more tea light boxes, as I promised before!
When not using the boxes, you can just unfold them and store them flat until next time you want to use them.
You can find the new boxes here.
I'm happy to say that we have not had any snow yet. The autumn has been quite warm and with good weather. Actually, I was out sowing some seeds during the last week. This has never happened at this time of the year before, because the ground is usually stiff with frost. The seeds will germinate when spring arrives.
Monica