December 22 have the shortest day and the longest night of the year, it's the winter solstice.
Where I live, the sun just rise above the horizon and then turns down again. Today the sun rose at 9:55 and went down at 13:06. Three hours of daylight is what we get, and then the sun is right in your eyes if you are driving. Cloudy days, it never really gets bright.
Knäck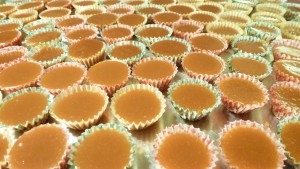 I have been busy making more Christmas candies. I always make knäck for Christmas, it's a Swedish toffee that is very easy to make. The recipe is:
2 dl sugar
2 dl heavy cream
2 dl golden syrup
2 tbs butter
Put all ingredients in a heavy based saucepan and stir it all together. Simmer it for a long time until the temperature is about 134 degrees C, this gives a hard knäck. If you want a softer knäck, 124-128 degrees C is recommended. I use a cooking thermometer for this. Then pour it up in waxed paper cups. Leave to cool.
You can also add chopped almonds or grated zest of one orange plus a few drops of orange aroma when you have reached the right temperature. The orange knäck is really delicious!
Monica