At last I have finished these designs. It's the last two with candles on. I hope it's not too late now when Christmas is over and the new year is here.
For the folded one, I have cut out six pieces and then glued them together. Then added a string and some pearls.
It's a little bit tricky to fold the design due to the thin lines. I use two rulers when folding, this makes it much easier.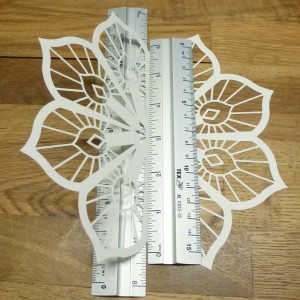 I don't put glue on the whole design, just some small dots on the thicker parts. I love to use the E-Z Runner that gives small strips. I pick them up one by one and put them on the design.
You can find the new files here.
I hope you all have had a wonderful New Year!

Monica