Today it has been really cold weather. In the morning it was -31°C. We had planned to go to town for shopping and I was a bit worried that the car wouldn't start, but it was no problem at all!
Usually when it's this cold, it does not blow. But in our city, Luleå, it's always blowing. We use to call it "the city of the 4 winds". The wind chill factor made it feel like -45°C and my cheeks started to ache straight away when going from the car park to the shops.
Now in the evening it's still -29°C. We have to wait until tomorrow evening before it will get a little bit warmer.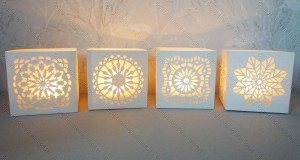 I think this will be the last tea light boxes, at least for a while now. 🙂
You can find the new files here.
Monica