This time of year the winter days are really lovely when the sun is shining. We have lots of snow and it's quite cold at nights. This morning when I woke up, I stayed in bed for a minute and just listened for the traffic noise from the high way that are not far from our house. I could hear that it was quite cold outside! When I looked at the thermometer it said -18 degrees C. The noise from the traffic gets much higher and sharper when it is cold outside!
I have started to sow a lot of flower seeds but this year I will try to not grow as many plants as I'm used to. Every summer after planting out all the flowers I need, I always have loads of plants left over. I usually give them away to family and friends but this year I will try to just grow what I need and not so much more. Wish me luck with that task! 😉
A new hobby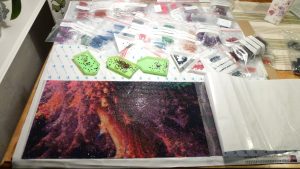 One day some weeks ago, when I was surfing on the net I found something that really caught my eye, diamond embroidery!
You place tiny resin diamonds on a adhesive canvas with a printed design on. The diamonds are just 2,5 mm in square. I bought one from Aliexpress, just to try. The design is a picture of a fractal. Of course I had to choose a large one, 60x60cm. This means about 57 000 tiny diamonds to put in the right place on the canvas. Ha-ha!
When I got the package and opened it, I started wondering what I got myself into. This will take for ever, I thought. I started to work with it and it's so fun!
Now I have spent less than a week, a couple of hours a day and almost a quarter of it is already finished. I will certainly buy another one when I have finished this!
Monica